Now that is is OFFICIALLY SATURDAY, the second post of my new segment is in the books with this latest installment!
Our (second) feature this week is a Yuri!!! On Ice AMV from MissPeggy:
I was riveted the first time I stumbled across this AMV (on Pinterest, believe it or not). Since then, I've viewed it what must have been 50 or 60 times. And yes, I know that it is primarily a (very well) edited compilation of our main three skaters taking to the ice, but the cover of "Chandelier" by Sam Tsui is glorious and fully captures, especially regarding Yuuri and Yuri, their desires to give everything on the ice. Yuuri wants to prove himself to the world that they might see him worthy—both of Victor and his own internationally competitive position. Yuri, still a child without his mother, isn't concerned with proving his skills to the world; they know he is talented, and Yuri is confident. Rather, he wants to prove himself to Victor that Victor—a man he sees as family—might not abandon him.
I also, however, see this AMV as highly Victor-centric. The strains of the music begin with the most telling of lyrics, and the editing supports this viewing perspective; note the beginning "one. two. three. drink" sequence; it always ends on Victor. Later in the AMV, images are ordered in such a way to support the idea that Yuuri is the reason Victor is now "swinging from the chandelier" and living in the moment rather than living only for the ice. It's beautiful and incredibly moving when you consider that, before love, his career was all that Victor had…
This video captures the dynamic between the men and the ice, as well as the men with each other. ❤
I'm gonna fly like a bird through the night, feel my tears as they dry
I'm gonna swing from the chandelier, from the chandelier

-Chandelier, Sia
---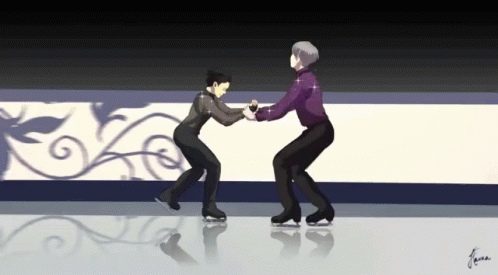 Check back next week for another CMV/AMV Saturday! Please let your content creators know if you like their work, and tell them Shoujo sent you. ヾ(*'▽'*)